Incorporates an
Automatic fault detector to
prevent the occurrence of printing defects,
High speed gravure printing machine.
The high-speed gravure printing machine is equipped
with an automatic inspection machine that can record images of defects.
Prevent printing errors and print high quality package film.
Gravure printing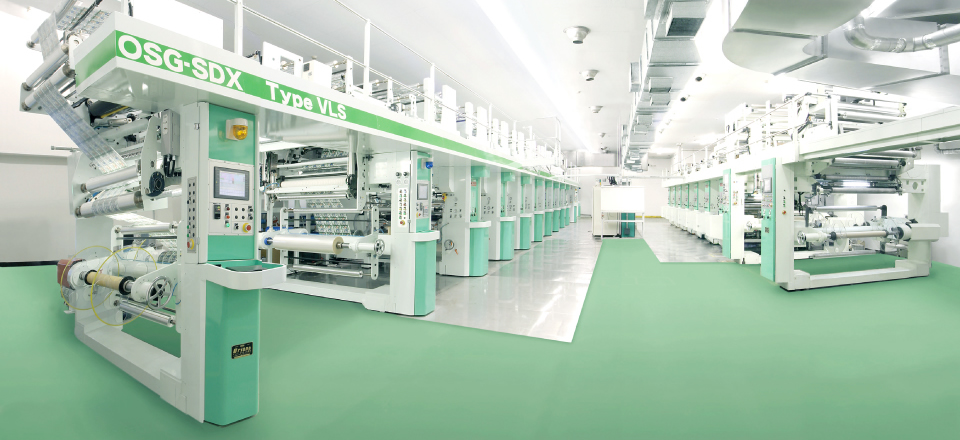 We have installed 9 color, 8 color and 7 color high speed gravure printing machines. Printing with a small number of colors is also performed by distribution. The printing machine is equipped with an automatic defect detection device that can record images of defects such as blurs, misregistration, doctor lines, and ink loss. The introduction of this system has made it possible to prevent printing errors and enable the printing of beautiful hygienic high quality packaging films.
Sheet width

They can handle sheets with widths 500 mm ~ 1,200 mm.
What is gravure printing
A kind of intaglio printing

Fine shading is beautifully expressed

Photo images are also printed beautifully

Food packaging film,Suitable for wood printing of furniture and home appliances, art books, photo books, etc.
The gravure plate cylinder rotates and the pumped ink is removed by doctor blade.
The ink remains in the depressions of the pattern, and is transferred to the film by the pressure of the impression cylinder, and the pattern is reproduced.
PP extrusion laminate, excellent in environmental health, from dry laminate, Supports a wide range of non-solvent runminates.
Dry lamination can be laminated from 7μ film to 0.8mm thick sheet.
PP extrusion lamination is a method in which CPP is directly extrusion laminated to OPP, Since no adhesive is used, non-solvent runminates that use a solvent-free type adhesive with less residual solvent are introduced, enabling processing that is superior to the environment and hygiene.
Dry Lamination Machines
These lamination machines carry out the dry lamination of wide range of films: from thin films to thick films,and also supports a wide range of PP extrusion laminates with excellent environmental health.

| | |
| --- | --- |
| Thickness | thin films of 7 μm ~ thick films of 0.8 mm |
| Sheet width | minimum 440 mm ~ maximum 1,200 mm |
PP Extrusion Laminating Machine
PP Extrusion Laminating Machine (Affiliated company: EcoloLaminate Co., Ltd.)"EcoloLaminate," is a laminating method in which OPP sheets are laminated with directly extruded CPP.Since the method does not use adhesives, the products contain very little residual solvent and therefore are friendly to the environment.In addition, EcoloLaminate products do not need aging and can be used for slitting and bag manufacturing soon after their production.The technology has enabled faster delivery and lower cost.

| | |
| --- | --- |
| Thickness | 13 μm ~ 70 μm |
| Sheet width | 500 mm ~ 1,200 mm |
Non-solvent lamination machine
An environmentally friendly laminating method which is urethane-based non-solvent adhesive without using an organic solvent.

| | |
| --- | --- |
| Thickness | 12 μm ~ 80 μm |
| Sheet width | 650 mm ~ 1,200 mm |
Slitters
Nine slitters are in operation and a high-speed slit with a width of 40mm to 1500mm is performed.

| | |
| --- | --- |
| Sheet width | 440 mm ~ 1,500 mm |
| Slitting interval | minimum 40 mm for 14 slit sheets |
We are accredited factory of"
soft packaging hygiene council ".
Conduct quality inspection on all products.
The head office factory is accredited by the Soft Packaging Sanitation Council.
In addition, inspection and quality control are conducted on all products,
and they will be shipped after strict checks.
"Soft packaging hygiene council"
authorized factory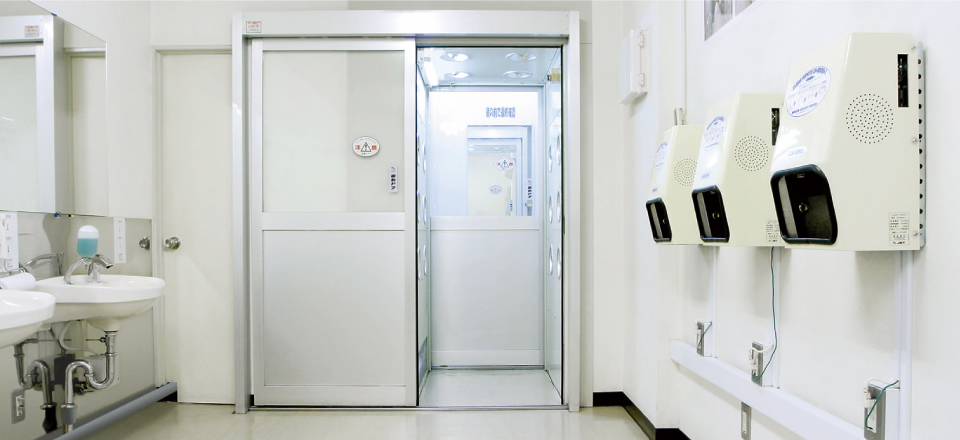 The head office plant is accredited by the Soft Packaging Sanitation Council.
The air shower and the wearing of electric stone cap prevent the mixture of dust and hair.
In addition, the internal pressure in the factory is increased, and a factory positive pressure system is used to prevent the intrusion of dust and insects from the outside of the building.
"Soft packaging hygiene council" authorized factory

"Green printing plant" certification
Certification number:H30050

Green printing factory certificate
Inspection and quality control
Laboratory

Quality management Office
Print version automatic
control rack warehouse

Gas chromatograph

All film quality inspections are conducted on food packaging materials such as film analysis, lamination strength, heat seal inspection, foreign substance inspection using a microscope, and residual solvent inspection using a gas chromatograph.
The product will be shipped after a sample is taken to the laboratory for a rigorous final check on quality.
Won the 18th printing industry environmental excellence factory award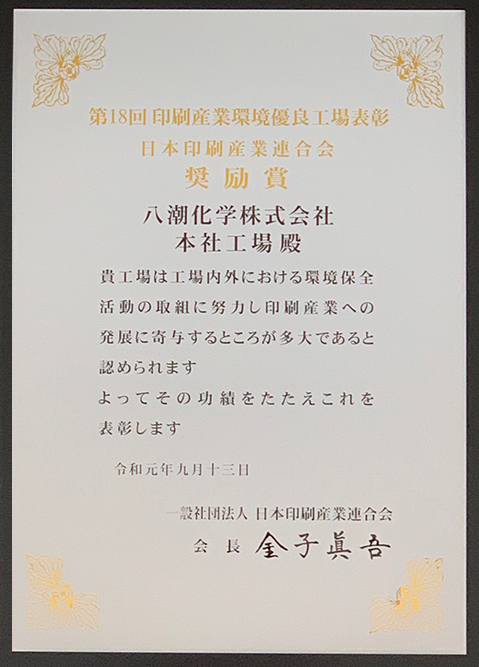 Received the Japan Printing Industry Federation Encouragement Award in the award system implemented for the purpose of acquiring environmental support in the printing industry, improving the environment of the printing factory, and gaining the support and understanding of society from printing companies.